Have you seen the viral video of the gymnast, Katelyn Ohashi scoring a perfect 10 in her floor routine?
I am OBSESSED. I've watched it over and over. It makes me cry tears of joy!
The joy in that routine is palpable. You can see it in her face, you can see it in her teammates face as they dance along and cheer for her every moment of her routine.
That wasn't always her story, though. (When I get obsessed, I google stalk 🙂 )
Just a few years before this video, Katelyn was absolutely miserable.
She was training in a gym in Missouri that was designed for gymnasts who were heading the Olympics.
While she was there, she realized that the body she was supposed to have as a gymnast, was not the body she actually had. So she struggled for years.
She shared some journal entries about how terrible she felt about herself, about how she would go to bed starving, and how she would get kicked out of practice for looking like her body wasn't "ready".
She experienced horrific body shaming from her coaches, fans, other gymnasts and she said that her self esteem "deteriorated" every single time someone critiqued her body.
Her relationship with her beloved sport began to crumble, but she loved gymnastics so much.
So instead of quitting altogether, Katelyn redefined her relationship with gymnastics. She found a coach, Miss Val, who approached the entire sport differently. Miss Val's method was to have a positive mindset, to encourage her team to live up to their own strengths, to embrace the body they have and use it FOR them.
SO I naturally became obsessed with learning more about Miss Val and after some google stalking, landed on this gem:
For Miss Val, it's not about the X's and O's, it's about choreographing your life and owning the choices you make.
We think that life is supposed to look a certain way, our marriage is supposed to look a certain way and if it DOESN'T look that way, there is someone or something to blame.
Maybe we blame ourselves, maybe we blame our partner, or our parents or our past.
But that's not where the transformation occurs. It occurs in the OWNING of your story, in taking responsibility for what you've created SO THAT YOU CAN CREATE SOMETHING ELSE.
Because Katelyn took ownership of her decisions, she was able to leave the part of her life that wasn't working for her and create a new story! A story where she was able to continue in her beloved sport but in a way that worked for her…in a way that makes her happy.
And you can see it all over her face. She is having the best time of her life and her teammates are having the best time of THEIR life…it's SO good.

And honestly? That's MY favorite part of my own story and all of my client's stories. Seeing ALL OVER HER FACE that she is loving the life she's created.
Instead of believing that you just have to stay STUCK in a life that makes you miserable, YOU have the power to change it.
Like Miss Val said, once you own your decisions, you can choreography any life you want.
It's the TRUTH. I did it myself and my clients do the same thing every day.
Where can you take ownership instead of laying blame?

Do you think it's someone else's fault that you're unhappy?
Do you think you don't have the time or money to invest in yourself?
What do YOU believe is the reason you haven't choreographed a new life?



(Here's the video so you can watch it 145 times).
---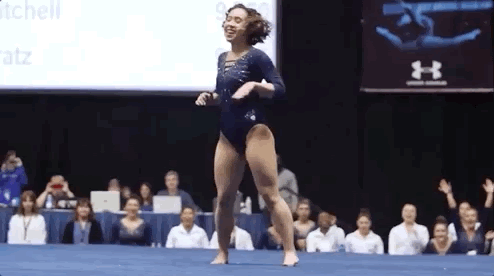 HELLOOOOOO! I'm Kristen and I help women have better relationships and create lives that they are head over heels in LOVE with. Because life is TOO damn short for anything else. Other things: I am obsessed with The Office, I'm almost always happy, and I express myself best through gifs.

Current mood :




---
Ready to create a life that makes you WANT to get out of bed every morning?
I can help:
1. Listen to the PODCAST or browse the blog and social media (FB + IG is where I hang out).
2. 1:1 coaching. We'll figure out what you want, we'll come up with a plan to get you there and I will be right by your side every step of the way. Book a free consult call here to see how coaching works.